Top 5 Flying Auction Lots
Published: 8th March 2018
Experiences which excite the inner thrill—seeker in us, are ever- popular at auction- and our flying experiences are no exception! We offer a variety of flying packages from indoor skydives, ballooning experiences to wingwalks…there really is something for everyone. We offer both singular flying packages, and flights for two people for those wishing to bring a friend/partner.
Below are our most popular flying auction lots, to use for your charity auction:
1 )

Tiger Moth
This nostalgic flying experience is the only way to really appreciate the freedom of the skies offered by this wonderful classic aircraft.  Your lesson will last 15 minutes and during the flight you will be given the opportunity to take the controls if you wish.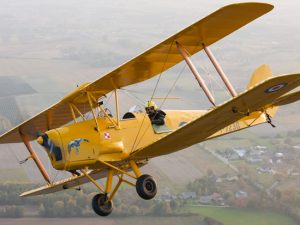 2) Hot Air Balloon for Two
Hot Air ballooning is unlike any other form of flying. Your flight will feel uninhibited as you silently glide over the countryside. What a view!
A model world appears below, familiar landmarks take on new perspectives whether you are close to the ground viewing the wildlife or up amongst the clouds marvelling at the world below.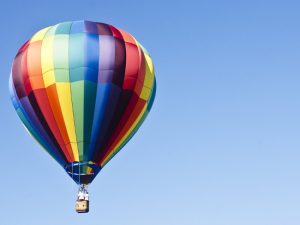 3) Indoor Skydiving for Two
If the idea of jumping from a plane is nauseating, but you'd still like to enjoy all the sensations of a full skydive, this indoor skydive is for you!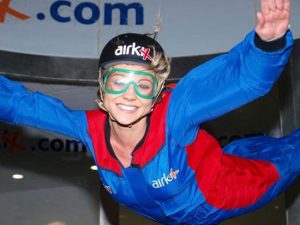 4) Wingwalking
This once in a lifetime experience is not to be missed! You will be trained by one of the professional wingwalkers and take part in a wingwalk yourself!
Flown by one of the wingwalking display pilots, you will take to the skies on the top wing of one of the biplanes and experience an exciting series of flypasts, zoom climbs, steep dives and banks!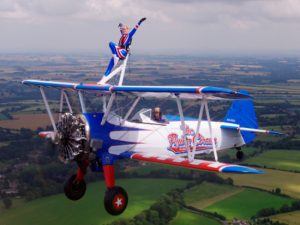 5) Piper Warrior for Two
Half-day flying lesson for two. The Piper PA28 range of single engine aeroplanes are undoubtedly the most popular and well-respected amongst the four-seater touring classes and great for training purposes. One of you will then take the controls (under the guidance of your instructor) whilst your partner/friend takes in the sights from the air.
To take advantage of any of these flying experiences to use at your charity auction, or for further details, contact a consultant on 01273 311433.